Do you think you have a carpet beetle infestation? In New Jersey, we have two species of carpet beetle: the black carpet beetle and the varied carpet beetle. All carpet beetles can be found throughout the continental United States but they are most common in the Northeastern region of the country, especially near the coast. Let's take a look at how you can figure out whether or not the insects in your New Jersey home are carpet beetles and discuss some other important facts about these destructive pests.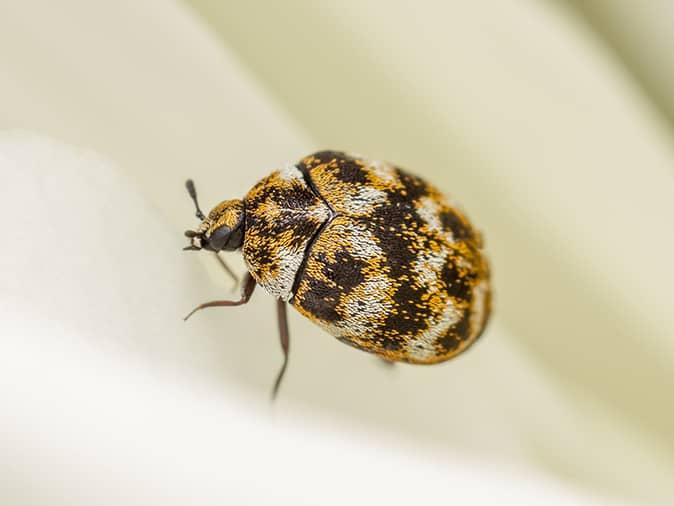 Identification
Black carpet beetles, referred to scientifically as Attagenus unicolor, are one color: black. Varied carpet beetles, Anthrenus verbasci, are a mixture of tan, black, brown and white. These insects have 6 legs, two antennae and two sets of wings that stack on their backs and are divided in the middle. Black and varied carpet beetles are around 3 to 5 mm in length and oval-shaped.
Diet
You may find it surprising but adult carpet beetles don't eat carpets. They feed on nectar and pollen. It is the larvae of carpet beetles that eat your carpets. They'll also eat fur, wool, hair, furniture, clothing made from natural fibers, and lint. Inside your walls, they'll eat dead insects, bird feathers and house mouse as well as other rodent hairs. Their dietary preferences make them a threat to the belongings inside your home.
Life cycle
There are four stages of life for a carpet beetle:
Egg
A female carpet beetle can lay as many as 100 eggs. These eggs are only about .35 to .75 mm in length. They are not much more than specks but they are still visible to the naked eye. You can find these eggs in cracks and crevices or near food sources for the larval stage.
Larvae
The larvae of carpet beetles are about twice as long as the beetles, which can be from 6 to 12 mm long. In this stage, they are fuzzy-looking caterpillars, not beetles.
Pupa
In this intermediate stage, carpet beetle larvae are white. They stay in this state for two or three weeks. Pupation often happens near a food source so you probably won't find pupa attached to a piece of clothing or blanket that was eaten by larvae. They'll usually move off the food source to enter this stage.
Adult
An adult carpet beetle only lives about two months and this is usually in the spring. This is the six-legged, beetle stage.
How do you get carpet beetle larvae in your house?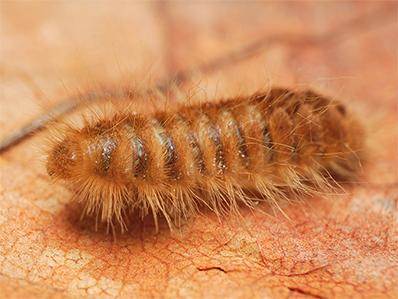 In the adult stage, these beetles fly right into your home through an open door or window and immediately look for larval food sources on which to lay their eggs. When the eggs hatch, the larvae begin to feed. Adult carpet beetles are great fliers and they are attracted to light. When you come into your home at night, this is often when one of these insects enters. Adult beetles can also be brought in on flowers because they feed on nectar and pollen.
How do you get rid of carpet beetles?
You can apply natural products around your home that will act as a desiccant and dry larvae and kill them, but this is not an easy task and there are many ways it can fail. Pest control products are much more effective at eliminating a carpet beetle infestation, but these are best applied by a licensed and certified pest control professional. Improper application of pest control products can be very harmful to you and everyone living in your home.
Can carpet beetles live in couches?
Yes. If your furniture has natural fibers or a mixture of natural and synthetic fibers, carpet beetle larvae can live in your couches. Adult carpet beetles may hide in your furniture no matter what it is made of.
Carpet beetle control
If you live in our New Jersey service area and you are seeing black or varied carpet beetles inside your home, let the team here at Arrow Pest Control help you resolve your problem. The products and strategies we use are highly effective at controlling carpet beetles in all stages of development. Reach out to us today to request an inspection for your New Jersey home. We're standing by to assist you.
Home Protection Program
Service consists of the elimination of your current pest or rodent problem, complemented by both interior and exterior year-round protection of your home, which is inclusive of three seasonal visits. The program covers your entire property including attics, mailboxes, playsets, sheds, and fences.
Pests targeted with Arrow's Home Protection Plan services include ants (excluding carpenter ants, pharaoh ants and acrobatic), bees, boxelder bugs, carpenter bees, carpet beetles, centipedes, cicada killers, clover mites, crickets, digger bees, earwigs, fabric & paper pests, fleas (inside only), ground beetles, hornets, mice, pillbugs, millipedes, rats, roaches, silverfish, sowbugs, spiders, springtails, stored product pests, and wasps.
*If you have a pool house that requires service, pricing would increase based upon the size of the structure.
Starting at
Program Price Calculator
Move the slider left to right based on your homes sq foot size for an estimated cost for services.**
**an initial set up fee will apply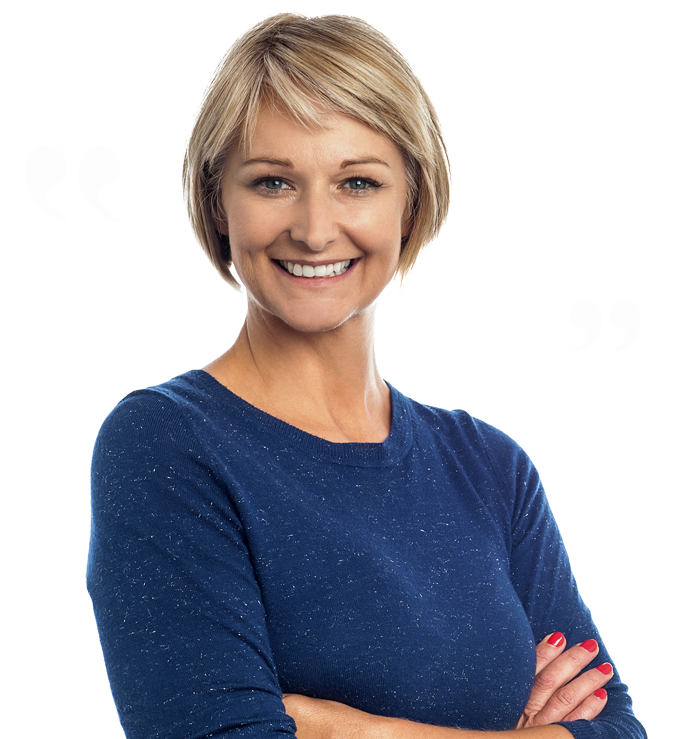 Testimonials
"Recommended to us by neighbors, Arrow arrived promptly to treat our new to us home. The house is built on a slab which small ants love to nest in.

Their program is such that they return til the problem is solved. Today was their third visit. Steve was very thorough, professional and had a great sense of humor. I am hoping not to see him again this season! I would recommend based on our current relationship.
Like"
Mary F.
Lakewood, NJ
Arrow Pest Control received an average rating of

5.0

out of

5

stars from

1380

reviews.
5.0
Read Google Reviews
Request Your
FREE

Estimate

Schedule Your No Obligation Inspection Today
Additional Services
Our solutions are designed for even your toughest pest problems.
Don't let pests affect your quality of life, here's how we can help: