A carpenter ant is a small insect with a big reputation—and rightly so. Carpenter ants are wood-destroying pests that cost U.S. property owners hundreds of millions of dollars in frustrating repairs every single year! But there are many myths surrounding these insects. Some cause us to be unnecessarily stressed when we discover these ants near our home. Some cause us to be unnecessarily relaxed. Let's take a look at some common misunderstandings people have about these pests. The more we know about carpenter ants, the safer our homes will be!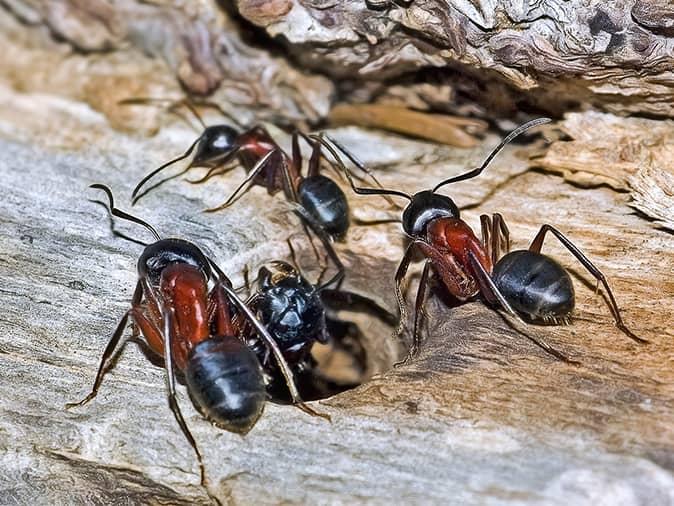 Do carpenter ants eat wood?
The most significant myth about carpenter ants is that they eat wood the way termites do. We're going to spend a lot of time on this one because the truth can actually help in understanding carpenter ant control.

Carpenter ants don't feed on wood. They create galleries in wood to establish their nests. This has several implications.

Termites will feed until they get every bit that can be consumed in the safety of darkness. This makes them more destructive than carpenter ants. But that doesn't mean carpenter ants aren't destructive. As a colony matures and replicates itself, there is more need for them to create more room for the growing colony inside the wood of your home. This will lead carpenter ants to expand their tunneling, even into sound wood. Over time, this can weaken structural timbers and cause cascading damage which is hard to repair.

When carpenter ants chew on wood, they have to do something with the shavings. These shavings are called frass, and they push it out of their tunnels through tiny kickout holes. This frass is sometimes pushed into common areas, such as the living room or kitchen, so it is important to recognize this frass as a sign of a carpenter ant infestation. However, these shavings are often pushed out into locations that are hidden or are hard to get into such as wall and ceiling voids, attic spaces, and the crawl space under a home. This can lead to long-term infestation and significant structural damage.

When carpenter ants and termites attack a home together, it is bad news. Carpenter ants will quickly take advantage of termite tunnels and expand on them, increasing how quickly damage can be done.
Do carpenter ants chew through hardwood?
Ants chew their way into a home through any wood they find. Actually, carpenter ants don't prefer to chew through sound, dry wood. They will target wood that has been moistened by water damage or humidity. So you don't really have to worry about these ants chewing their way through your exterior walls if you keep your foundation perimeter dry and address any areas of rotting wood.

Once inside a home, these ants will gravitate to locations where moisture is built up in the walls. Under or behind the kitchen sink is a popular location, as well as in the structure around a jetted tub or under the toilet. But they'll target window and door frames first. These are difficult points on a home for sealing moisture out and, as you can probably imagine, there is a lot more moisture trying to get into your home than there is already inside your home.
I don't have any water damage; is my home safe from carpenter ants?
Some people know that carpenter ants prefer moist and rotting wood. This leads to a misunderstanding that these ants won't attack a home if it does not have moisture damage. While it is certainly important to keep things dry, as we mentioned above, there are other ways carpenter ants can get in. And, once inside, they can find many areas to create their nests.
Gaps around pipes that enter the structure.
Holes or gaps around window and door frames.
Cracks or loose mortar in a foundation wall.
Underneath a garage door.
Inside firewood as it is brought inside.
Under a door sweep.
Through broken bristles in weather stripping.
Somewhere in the middle of all these myths, we find the truth. While we can certainly make our homes more resistant to carpenter ants by keeping them dry and sound, these ants can still be an issue. The best solution is to have routine pest control treatments applied around the perimeter of your home. Year-round pest control can protect your home from termites, carpenter ants, and other destructive pests, while also protecting your family from the health threat bugs, rodents, parasites, and wildlife can pose.
What are these winged ants?
Another common misconception people have about carpenter ants has to do with flying carpenter ants. When these winged ants are found inside a home you may be tempted to vacuum them up and shrug them off if you think they accidentally found their way into your home from outside or mistake them for another species of ant, rather than the winged reproductives of carpenter ants.

If you find one flying ant inside your home, it is possible that it accidentally flew in through the door or through a window. But finding a dozen or more winged ants crawling on inside walls or windows is a definite sign of an infestation. Flying carpenter ants are drawn to light. They aren't likely to choose the dimmer interior of your home over the bright outside. This love of light is also why you're likely to find flying ants on interior window panes. They're trying to get to the light.

When flying ants appear in your home, it is important to understand what they are present. If you mistake them for another species of ant, you're going to miss out on a valuable warning sign.

As a carpenter ant nest reaches maturity, the queen inspires the production of female and male flying reproductives. The purpose of these reproductives is to leave their current nests to create new ones and establish new colonies. That means, if you have flying carpenter ants in your home, your carpenter ant infestation is about to get worse. Maybe a lot worse.
Aren't carpenter ant infestations easy to detect?
There are a few obvious signs of carpenter ants that might make you think that these ants are easy to detect. They push frass out of their tunnels. They produce flying ants. And they often crawl around inside our homes looking for food.

As we touched on already, frass can be pushed out inside wall voids and other hidden places. It can also be pushed out into rooms that help to conceal it, such as a wood storage room or a carpentry workshop. If you have sawdust or wood particles on your floors and walls, that frass is going to blend right in. It can blend in on the walls of basements and attics as well.

If you know that carpenter ant colonies produce flying ants and that these flying ants can be found crawling around on the inside or outside of your home, you may be tempted to think that you can just wait till you see this obvious sign and that no pest control is needed. If only this were true. The problem is that carpenter ant swarms typically don't last more than 30 minutes. So flying ants could swarm and you may not notice it. It could happen at night while you're sleeping. It could happen while you're away at the grocery store or at work. It could happen inside a crawl space, attic space, or some other location that isn't readily visible.

You would think that your pantry and kitchen would be filled with carpenter ants if you have an infestation, which would make it rather easy to detect them. Sadly, this is seldom the case. These ants can find plenty of food to eat outside in your yard. They don't need to raid your cabinets and your shelves. So you would be lucky to see a single ant crawling around every once in a while, even with a well-established infestation.
I can take care of these carpenter ants myself.
This is probably the worst myth of all. Carpenter ant control can be extremely difficult for an untrained individual to eliminate. This is one infestation you can't afford to make a mistake on as these ants can cause quite a bit of damage over time.

It is best to hire a licensed professional to address a carpenter ant infestation. Not only will a professional use the proper products to effectively eliminate your problem, but they also know how to monitor for carpenter ant activity to make sure that all the ants are gone and that your property is no longer being damaged by these insects.

Once the infestation has been arrested, your pest control professional can help prevent these and other wood-destroying pests from eating away at your equity in the future. There is nothing more heart-wrenching than discovering your home has been damaged from the inside out by destructive pests. Your home is your castle. It's where you make memories. Protect it with a pest control plan you can trust. If you live in New Jersey, schedule a free, no-obligation home estimate from Arrow Pest Control by giving us a call today. We'll help you set up a pest control service plan that works for you.
Home Protection Program Plus
This program includes everything from the Home Protection Program - PLUS carpenter ant control and our termite monitoring advantage. Arrow will install a passive subterranean termite monitoring system at critical or conducive areas along the exterior perimeter foundation of your home. This system will include up to 4 in-ground subterranean termite monitoring stations. These stations will be serviced and inspected as part of your routine service.
Should the monitors indicate termite activity or termites occur within the home, Arrow will provide you with a termite treatment proposal at a 50% discounted rate, and you will be upgraded to Arrow Premier at the current prevailing rate.
Is a year-round program that provides full interior and exterior service.

Service includes a one-time interior service per year and two exterior treatments.
Covers your entire property* including the attic, mailbox, playset, shed, and fence.
Termite monitoring advantage
Pests targeted with Arrow's Home Protection Program Plus includes all the pests included in the Home Protection Program PLUS carpenter ants, pharaoh ants, and acrobat ants.
*If you have a pool house that requires service, pricing would increase based upon the size of the structure.
*Termite monitoring advantage is not applicable in over-55 communities
Starting at
Program Price Calculator
Move the slider left to right based on your homes sq foot size for an estimated cost for services.**
**an initial set up fee will apply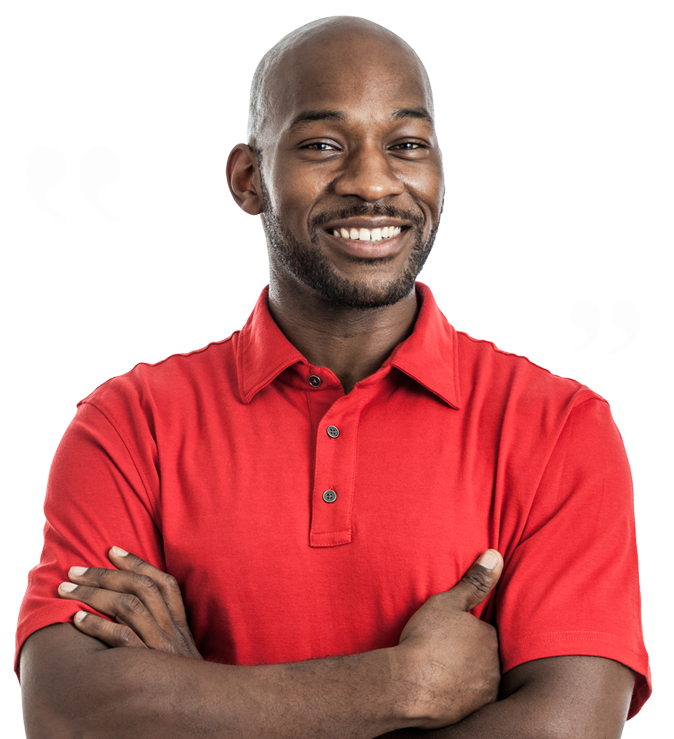 Testimonials
"We have a quarterly service plan with Arrow. They are not only focused on addressing issues they put preventative measures in place to prevent issues from happening, like looking for and sealing the places where bugs can get into the home. The team are professional, friendly, thorough and provide details about every step of their process. We have had several different technicians over the last 2 years and each follows the same process and guidelines. Definitely recommend for treatment and prevention."
Jared L.
Manalapan, NJ
Arrow Pest Control received an average rating of

5.0

out of

5

stars from

1380

reviews.
5.0
Read Google Reviews
Request Your
FREE

Estimate

Schedule Your No Obligation Inspection Today
Additional Services
Our solutions are designed for even your toughest pest problems.
Don't let pests affect your quality of life, here's how we can help: