What are drugstore beetles?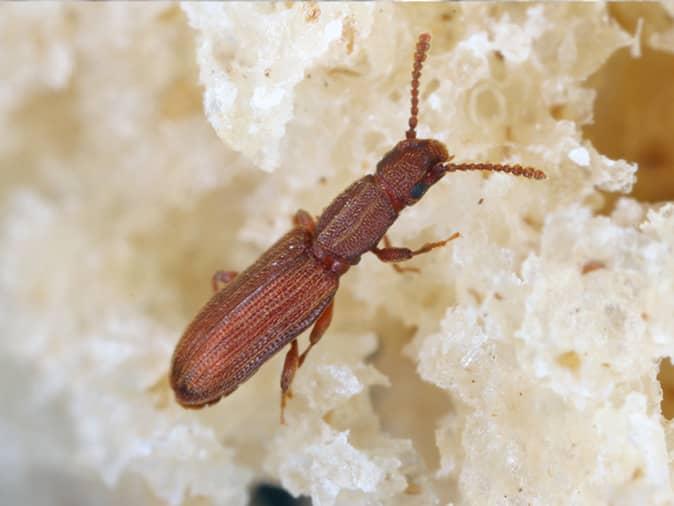 Drugstore beetles belong to a group of insects known as stored product pests or pantry pests. Indian meal moths and confused flour beetles are also members of this club and like them, drugstore beetles infest and feed on such items as flour, breads, sweets, and spices.
They also attack and consume non-food products including wool, hair, and leather. While their name suggests that you may find these pests infesting pharmacies, it is their fondness for the consuming plants and herbs that make medicine that earned them their name.
What do drugstore beetles look like?
Adult drugstore beetles are cylinder-shaped insects about 1/10 to 1/8 inch long. They have brown to reddish-brown bodies that are covered in rows of fine hairs. On their heads, they have clubbed antennae that are segmented into three sections.
Small and white, drugstore beetle larvae resemble grubs or maggots in their shape and are about 1/8 inch in length.
Do drugstore beetles bite?
No, drugstore beetles do not bite.
Are drugstore beetles harmful?
Drugstore beetles are not harmful to people or pets. They will damage items made from the non-food material they eat and contaminate food sources. As is the case with other stored product pests, the larvae of this beetle are the ones that are behind all the damage and food contamination.
Why do I have a drugstore beetle problem?
If you have a drugstore beetle infestation in your home or business, it is likely they arrived in already infested items.
How do you get rid of drugstore beetles?
Contact Arrow Pest Control for help getting rid of drugstore beetles in your home or business. Our locally owned and family operated pest control company offers residential pest control solutions that target these pests and also deliver commercial pest control services to a wide variety of industries including food distribution centers, supermarkets, and restaurants.
How can I prevent a drugstore beetle infestation?
Inspection is the key to preventing a drugstore beetle infestation. Check every food item that passes through your doors including bird seed and pet food. Ideally your inspection should be performed where you purchase items.

Remove items from their original packaging and store in airtight plastic containers.

Rotate your pantry items, using the oldest ones first.

Toss any items that have passed their expiration date but don't throw away in your kitchen trash. Instead put them in a bag that seals and put in your outside receptacles.

Seal all cracks and gaps in your foundation to make sure these pests cannot enter from the outside.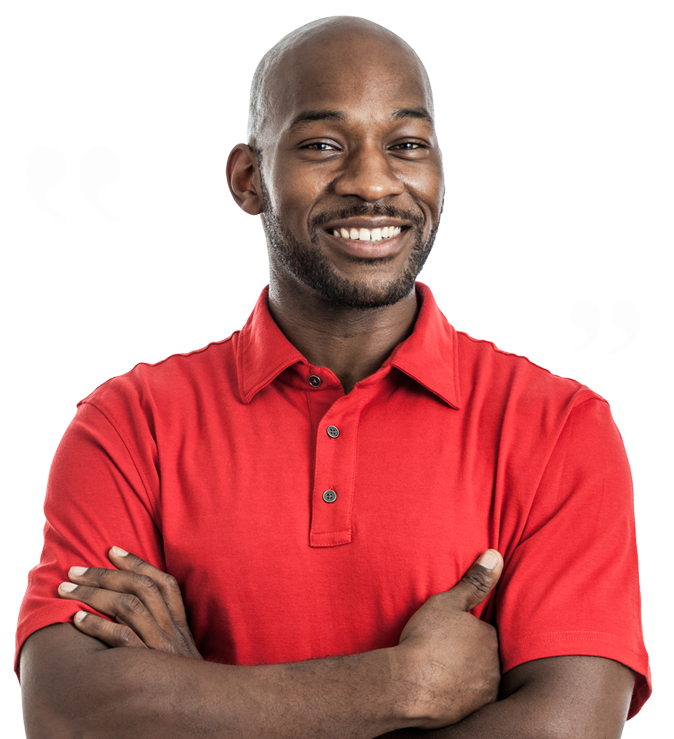 Testimonials
"My family has used Arrow since the early 80's. In our new home we use them as well. Jason came yesterday and did a great job. Thanks again for your great service to our community!"
Jeff K.
Farmingdale, NJ
Arrow Pest Control received an average rating of

5.0

out of

5

stars from

1380

reviews.
5.0
Read Google Reviews
Request Your
FREE

Estimate

Schedule Your No Obligation Inspection Today
Additional Services
Our solutions are designed for even your toughest pest problems.
Don't let pests affect your quality of life, here's how we can help: