Owning and maintaining a home is a big responsibility that is fraught with danger. If you're not paying attention, you could find yourself in quite a financial pickle. Recognizing the danger of a wet spot on a ceiling could alert you to a leaking toilet before you find yourself with widespread water damage and the mold problems that almost always follow. Understanding that every home must have proper surge protection to prevent house fires sparked by lightning, could keep you from losing everything when lighting "literally" strikes. Recognizing the threat of an old tree in your yard, and having it removed, could save you from having it crash down through your roof on a windy day, resulting in costly roof repairs. Understanding terms like biological weathering could guide you to make better choices about the plants you put around your home and save you from getting foundations cracks. Being aware of flood zones can prevent you from buying a home in a location that could result in a complete loss of your property. There are many ways your home can be damaged unexpectedly. The more you know, the more protected your investment will be.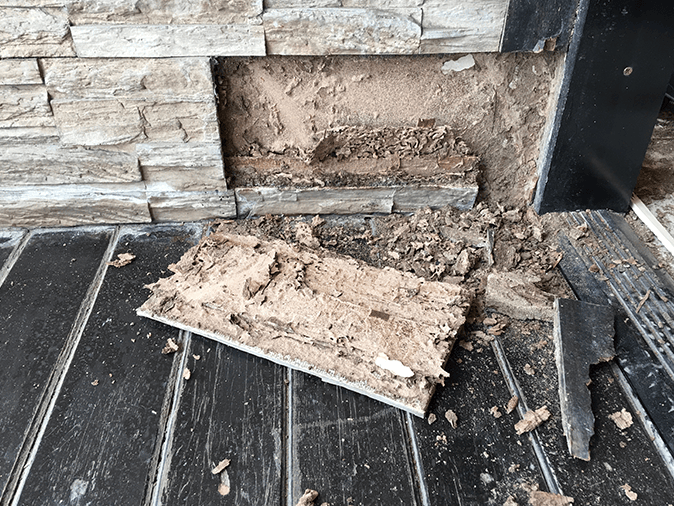 Knowing you have a termite problem is the first step
Subterranean termites cost U.S. property owners over $5 billion every year. They come up from the ground, often without warning, and can feed on a structure for years without being detected. Damage done by subterranean termites weakens support timbers and the studs in load-bearing walls, which inevitably has a cascading effect. Over time, walls bulge, floors begin to sink, doors and windows begin to stick or swing freely, and ceilings sag. In New Jersey, the termites we see most are Eastern subterranean termites. Annually, these termites cause more damage to homes than all natural disasters combined. It is unwise for any homeowner in New Jersey to be without protection from subterranean termites.
Is it possible to protect a home with DIY termite control products?
Subterranean termites are persistent and sneaky. This is a dangerous combination. DIY Termite treatments fail because homeowners do not have the tools or education to counteract these two termite characteristics.
Persistent
DIY treatments are generally ineffective or incomplete. Topical treatments are applied to foundation walls and soil, only to be washed away by rainwater. Liquid termiticides are applied around foundation perimeters, but termites find a way past because a complete curtain was not established around the entire structure. Sometimes an inadequate amount of product is used. Sometimes trenching is done improperly. The last thing any homeowner wants to do is spend a ton of money on termite control products and hours of back-breaking work installing it, only to miss a spot. Persistent termites have infested countless homes that were considered "protected."
Sneaky
Improper termite treatments leave a home vulnerable, even when a homeowner believes the home is protected. When termites find a way past a DIY chemical barrier, homeowners aren't trained to detect them. The signs subterranean termites leave behind are usually subtle and in hard-to-see locations. Detecting and identifying them requires an education in the habits and habitats of subterranean termites.
What works to keep subterranean termites out?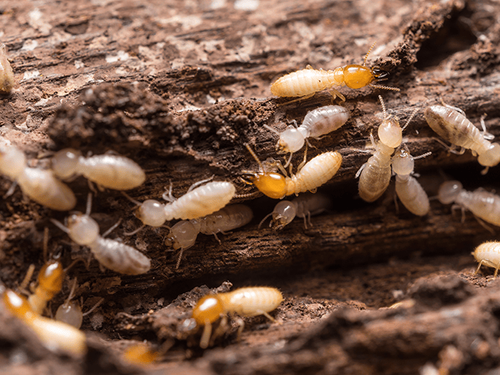 Termite control has been around for decades. Over the years, advances in science have changed the way pest control companies guard homes from termite damage. It is no longer acceptable to just kill termites that come to feed on a home. Termites are too persistent. Control products must work to eliminate the attacking colonies. To do this, there must be a transfer effect.
Bait systems and Termidor® termiticide both have a transfer effect. Both protocols will use worker termites to share an active ingredient with other termites in their colony. They take advantage of a behavior that worker termites share. When they find a food source, they consume it. Then, they share it one to another by grooming or by the sharing of fluids. Eventually, the active ingredient works its way all the way to the queen. When the queen dies, and there is no reproductive female to take her place, the colony dies. But these two products do this in a very different way.
The active ingredient in most bait systems is noviflumuron, which works to prevent termites from molting. When termites can't molt, they die. But this process can take time. In some cases, it can take more than 6 months to eliminate a colony and, while the bait is doing its magic, those worker termites can do damage to a home.
The active ingredient in Termidor® termiticide is fipronil. Unlike noviflumuron, diflubenzuron, and other ingredients used in bait systems, fipronil has been shown to provide 100% control of termites in less than 3 months.
Bait systems use the recruitment behavior of termites to lure them to the bait. While this is great for ensuring that lots of active ingredient will be taken back to the colony, it also makes bait stations a source of attraction.
Termidor® termiticide is a non-repellent chemical barrier that termites pass through and pick up on their bodies. This chemical is not attractive to termites and does not cause them to recruit other termites to come. When termites pass through the barrier, the product begins the process of killing those termites. Learn more about why liquid termite treatments work!
Installation of a Termidor® termiticide barrier
The application of Termidor® is best done by a Certified Termidor® Installer. The process begins with a termite preparation checklist to ensure everything goes smoothly. Then, the product is systematically installed all the way around the property. Along areas of the home where there is soil, a trench is established. In areas where there is no surface, such as the driveway in front of the garage and the front step, drilling is needed. When done properly, the barrier is made complete without doing damage to the home. In fact, the evidence of the termite barrier may be entirely invisible after the process is complete.
What happens after the barrier is installed
Once the product is in place, it is important to make sure it continues to do the job. At Arrow Pest Control, we offer a one-year renewable warranty that is transferable if the home is ever sold to another owner. This warranty comes with an annual inspection of the property, which is performed by a certified and educated professional. Your technician knows where to check for signs of termites and what these signs look like. Your technician will also make sure that the termiticide barrier continues to remain effective.
While there are many ways to protect your investment from termites, there is no better way than professional application of a Termidor® barrier and ongoing termite monitoring.
New home construction
If you're having a home built, you don't have to wait till it is completed to get your termite protection in place. You can have a pre-treatment of Termidor® termiticide before construction begins.
Most important of all
Protecting a home investment from termite damage isn't easy. Be selective when choosing a pest control company to protect your home. Don't choose the company with the lowest bid because you get what you pay for. And don't choose the company with the highest bid because a company that charges more isn't necessarily more qualified to get the job done right. Choose a business that has earned recognition for professionalism, like Arrow Pest Control.
All of the pest control specialists at Arrow Pest Control are NJDEP certified. That means they adhere to exacting state requirements for the use of pesticides.
A professional pest control company is one that uses modern Integrated Pest Management to solve pest problems. This is a smart, education-based approach to pest control that uses EPA-approved pesticides only when absolutely necessary.
At Arrow, we believe it is important to stay current on all of the latest developments in the industry. This is why we employ only leading entomologists in the United States as professional consultants.
When it comes to keeping wood-destroying insects out of your home, we recommend a Termidor® termiticide barrier installed by a trusted pest control provider. There is simply no better way to avoid the hardship of termite damage.
If you're in our New Jersey service area, reach out to us today to request a free inspection of your property. One of our highly trained and certified pest control specialist will do a no-obligation evaluation of your property and guide you in industry-leading options to protect your equity.
Arrow Premier
If you're looking for a program that protects your home and family from common household pests PLUS termites and other wood-destroying insects, we recommend Arrow Premier. With this program, you get quarterly pest control and a wood-destroying insect program in one package!
Protects your home all year long.
Consists of full interior and exterior inspections and treatments.
Covers your entire property* including the attic, mailbox, play set, shed, and fence.
Includes a certified termite inspection and ongoing termite control.
Pests targeted with Arrow's Premier includes cockroaches, silverfish, spiders, earwigs, clover mites, millipedes, centipedes, crickets, ground beetles, boxelder bugs, ants (including carpenter ants, pharaoh ants and acrobatic), fleas (inside only), pillbugs, sow bugs, fruit flies, stored product pests, bees, wasps, hornets, carpenter bees (no higher than 10ft), mice, and rodents PLUS termites
*If you have a pool house that requires service, pricing would increase based upon the size of the structure.
Starting at
Program Price Calculator
Move the slider left to right based on your homes sq foot size for an estimated cost for services.**
**an initial set up fee will apply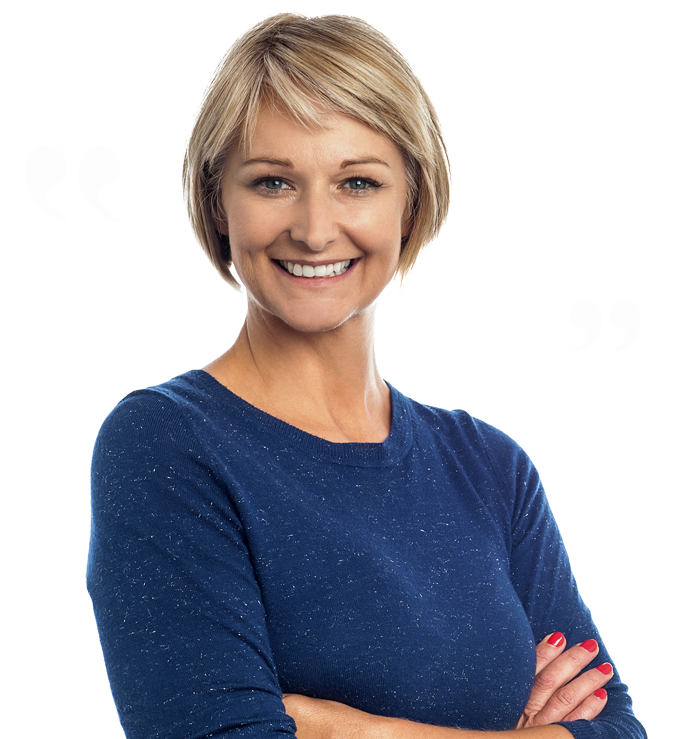 Testimonials
"Recommended to us by neighbors, Arrow arrived promptly to treat our new to us home. The house is built on a slab which small ants love to nest in.

Their program is such that they return til the problem is solved. Today was their third visit. Steve was very thorough, professional and had a great sense of humor. I am hoping not to see him again this season! I would recommend based on our current relationship.
Like"
Mary F.
Lakewood, NJ
Arrow Pest Control received an average rating of

5.0

out of

5

stars from

1380

reviews.
5.0
Read Google Reviews
Request Your
FREE

Estimate

Schedule Your No Obligation Inspection Today
Additional Services
Our solutions are designed for even your toughest pest problems.
Don't let pests affect your quality of life, here's how we can help: