What are spotted lanternflies?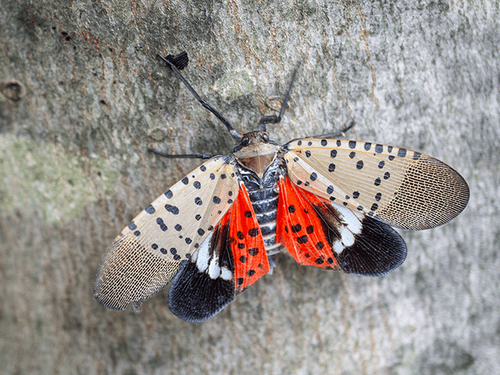 The spotted lanternfly is an invasive species that was first confirmed in Pennsylvania in 2014. Since then, this plant hopper has spread to neighboring states, including New Jersey.
What do spotted lanternflies look like?
Adult spotted lanternflies are easily recognized by the black spots on their front wings and brightly-colored hind wings. They are approximately one-inch long and ½-inch wide when resting. When their wings are spread they resemble butterflies.
Spotted lanternfly nymphs have black bodies with white spots. As they grow older their color will change to bright red. Nymphs range in size from 1/8 to ½ inch.
Are lanternflies harmful?
Spotted lanternflies do not bite or sting humans or pets.
They do feed on the sap of over 70 plants and when there are larger numbers of them, they can cause significant damage. According to New Jersey's Department of Agriculture website, spotted lanternflies have the potential to greatly impact agricultural crops and hardwood trees.
Why do I have a lanternfly problem?
Late summer and fall are when property owners are likely to notice adult spotted lanternflies on the sides of their homes and buildings as well as on other, tall structures. Researchers believe that these pests may be attracted to the warmth of the structure as well as the height.
What should I do if I see an egg mass?
While adult spotted lanternflies are not able to survive winter, their egg masses do. They are approximately one inch in size and typically found 10 feet above ground on trees. If you find an egg mass or multiple egg masses on your property, they should be scraped off and submerged in rubbing alcohol to kill them. Simply scraping them off the tree will not stop them from hatching.
What should I do if I find spotted lanternflies on my property?
If you find spotted lanternflies on your New Jersey property, you are encouraged to report your finding to the state. View New Jersey's reporting guidelines here.
Can I prevent a spotted lanternfly infestation?
No, there's nothing you can do to prevent a spotted lanternfly infestation from occurring on your property.
NJ counties currently "quarantined" due spotted lanternfly infestations
As of September 16, 2022, The New Jersey Department of Agriculture reports there are 13 counties in quarantine to stop help the spread of the invasive spotted lanternfly. They include:
Burlington
Camden
Essex
Gloucester
Hunterdon
Mercer
Middlesex
Monmouth
Morris
Salem
Somerset
Union
Warren
Additionally, the following counties have confirmed small SLF populations and/or regulatory incidents:
Atlantic
Bergen
Cumberland
Hudson
Ocean
Passaic
Sussex
Please visit https://www.nj.gov/agriculture/divisions/pi/prog/pests-diseases/spotted-lanternfly/homeowner-resources/ for more information.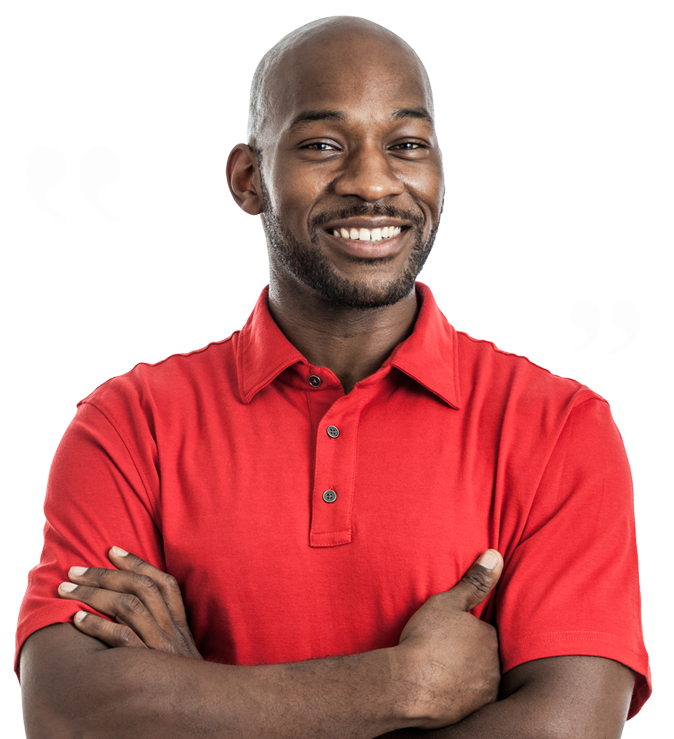 Testimonials
"I have a service plan with Arrow and use them quite often. Never disappointed, always friendly and knowledgeable and come right out and address the matter. I wouldn't hesitate to recommend them at all."
Jeffrey K.
Marlboro, NJ
Arrow Pest Control received an average rating of

5.0

out of

5

stars from

1380

reviews.
5.0
Read Google Reviews
Request Your
FREE

Estimate

Schedule Your No Obligation Inspection Today
Additional Services
Our solutions are designed for even your toughest pest problems.
Don't let pests affect your quality of life, here's how we can help: