Are carpenter ants a threat to New Jersey homes?
Unfortunately, yes. Carpenter ants are wood-destroying ants that are capable of damaging any wood within which they nest. Trees, sheds, window frames – it really doesn't matter as long as it's made from wood. As we dive into this article, we'll touch briefly on carpenter ant identification and behavior, explain why they infest homes, and of course, discuss carpenter hot spots.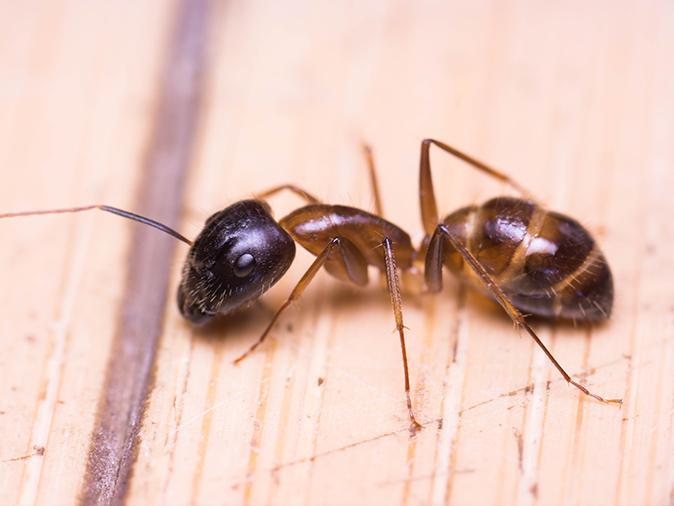 What carpenter ants look like
Carpenter ants are often described as large black ants and that's true – with a caveat. Carpenter ants may be dark red or a combination of dark red and black as well.
As is the case with other types of ants in New Jersey, carpenter ants have six legs, and three distinct body parts. They also have antennae which look like handlebars--only those handlebars will appear backwards.
They don't actually eat wood
Unlike termites that infest and consume wood and wood by-products, carpenter ants don't actually eat wood. Instead, they excavate it in order to create tunnels and galleries in which to lay eggs. The resulting wood particles or fine sawdust that is created by their efforts is called frass and is pushed out of the tunnels so that they remain clean and clear of debris.
As we talk about hot spots for carpenter ants, we'll be discussing this frass quite a bit. Frass is one of the most important signs to look for to detect unwanted carpenter ant activity because these ants don't always leave noticeable damage for homeowners to see. Another important sign is the presence of the carpenter ants foraging for food in and around your home -sometimes alone and sometimes in larger groups.
How carpenter ants damage property
When carpenter ants infest, they chew galleries and tunnels in wood that can lead to structural issues and cascading damage. And, though carpenter ants prefer to chew on soft and decaying wood, they can damage sound hardwood as well.
Exterior hot spots for carpenter ants
Before carpenter ants infest your home, there's a good chance you'll find them in your yard – that is, if you know where to look for them outside. With that in mind, here are a few of the more common exterior hotspots for these destructive pests:
Hardwood trees with holes, knots, insect damage, etc.
Stumps & logs
Landscaping timbers
Rotting fence posts
Woodpiles
You might also notice carpenter ant activity in and around sheds and other outbuildings especially if there's water damaged or moist wood present.
If you suspect carpenter ants are on your property, look for the presence of frass pouring out of a crack, or these large ants crawling around on the wood, especially at night.
If you have a deck, porch, patio, or exterior stairs, carpenter ants will likely attack these first because the wood of these structures are often less protected and often come into contact with the soil.
Carpenter ants prefer moist areas around a home because moist areas often have wet, rotting wood. If you have plants that get watered daily or shaded spots where rainwater moistens the soil for long periods of time, you may draw carpenter ants in. Search for frass coming out of foundation cracks or gaps in your exterior walls. Pay close attention to any areas that show signs of wood decay. Window and door frames are also a likely target for these ants as moisture often gets trapped in these areas.
As we mentioned above, wood is not a staple of the carpenter ant diet and so they must forage for food. Outside you might find them in the garden or among your ornamentals as they search for honeydew to feed on and the aphids that produce it.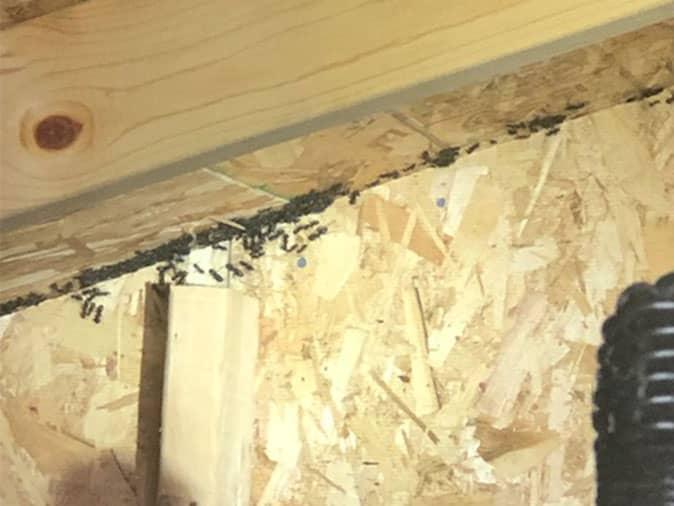 Interior hot spots for carpenter ants
Carpenter ants typically set up a parent colony outside and satellite colonies indoors in or near wood that has been dampened or damaged by water/moisture. Common hotspots inside structures include:
Around sinks and tubs
Behind dishwashers
Around washers and dryers
Poorly sealed windows and/or door frames
Leaking roofs
Poorly ventilated crawlspaces
Damp basements
In wall voids
Under flooring
Near chimneys with poor flashing
Attic insulation
How to make your home and yard less appealing to these big ants
Since carpenter ants are drawn wood that has a high moisture content, it is imperative that you address any and all sources of water damaged or rotting wood. To that end we recommend:
Removing stumps, logs & other rotting wood
Stack firewood away from your home
Do not store construction materials next to your house
Replace old fence post that are split, damaged, or not treated
Minimize wood to soil contact whenever and wherever possible
Replace leaking appliances
Fix damage caused by water issues
Replace water damaged or damp wood
Repair any holes in the roof
Fix chimney flashing
Eliminate potential food sources
Address ventilation issues
Seal off any crack, gap, or opening from the foundation to the roof line
Trim back trees so that no part of them touches the house
What to do if you find carpenter ants inside or on your property
Carpenter ant activity, either indoors or outdoors, should never be ignored and instead considered a warning sign that your home is at risk for infestation. Whether you find one or several carpenter ants in or around your home, contact a licensed pest control professional for assistance.
Arrow's carpenter ant control solutions
To get rid of carpenter ants in or around New Jersey homes, Arrow Pest Control offers effective carpenter ant control that includes:
A thorough carpenter ant inspection
Exterior treatment focused on the perimeter of the house and other areas of concern on your property
Interior treatment to exterminate carpenter ants that have already made it inside
Follow-up treatment to make sure that your carpenter ant problem is solved
Available in Paramus, Roseland, and Freehold as well as throughout our multi-county service area, our comprehensive carpenter ant control also includes a one-year renewable carpenter ant warranty. That's guaranteed carpenter ant control!
Sign up for our Home Protection Plus plan for even greater protection
Home Protection Program Plus
This program includes everything from the Home Protection Program - PLUS carpenter ant control and our termite monitoring advantage. Arrow will install a passive subterranean termite monitoring system at critical or conducive areas along the exterior perimeter foundation of your home. This system will include up to 4 in-ground subterranean termite monitoring stations. These stations will be serviced and inspected as part of your routine service.
Should the monitors indicate termite activity or termites occur within the home, Arrow will provide you with a termite treatment proposal at a 50% discounted rate, and you will be upgraded to Arrow Premier at the current prevailing rate.
Is a year-round program that provides full interior and exterior service.

Service includes a one-time interior service per year and two exterior treatments.
Covers your entire property* including the attic, mailbox, playset, shed, and fence.
Termite monitoring advantage
Pests targeted with Arrow's Home Protection Program Plus includes all the pests included in the Home Protection Program PLUS carpenter ants, pharaoh ants, and acrobat ants.
*If you have a pool house that requires service, pricing would increase based upon the size of the structure.
*Termite monitoring advantage is not applicable in over-55 communities
Starting at
Program Price Calculator
Move the slider left to right based on your homes sq foot size for an estimated cost for services.**
**an initial set up fee will apply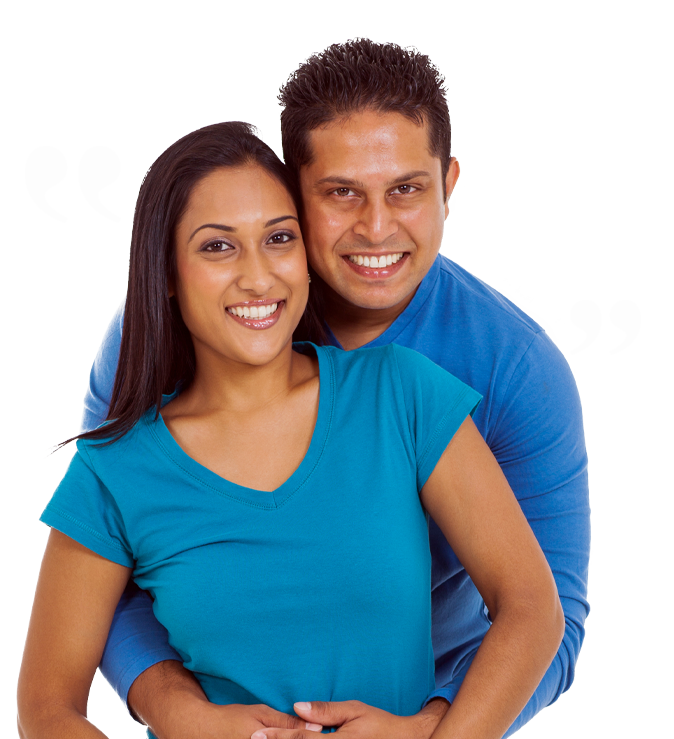 Testimonials
"I used Arrow Pest Control for the first time today and I was totally satisfied, I reached out to them on Sunday and spoke to Beatrice and she set me up an appointment for Monday morn for an estimate and Monday afternoon the technician came and serviced my house.....I wish I could have gave them 10 stars, very helpful, right to the point, very professional, on time and no games.....I highly recommend arrow pest control in Morganville.......thank you J.F."
Joe F.
Matawan, NJ
Arrow Pest Control received an average rating of

5.0

out of

5

stars from

1380

reviews.
5.0
Read Google Reviews
Request Your
FREE

Estimate

Schedule Your No Obligation Inspection Today
Additional Services
Our solutions are designed for even your toughest pest problems.
Don't let pests affect your quality of life, here's how we can help: