May 20, 2022
Ants With Wings In The House
In the last few weeks, our customer service representatives have been fielding calls about ants with wings. Really, it's not surprising now that spring has arrived and the weather is slowly but steadily improving. But what are these ants and should New Jersey homeowners concern themselves with these flying ants? In a word, yes.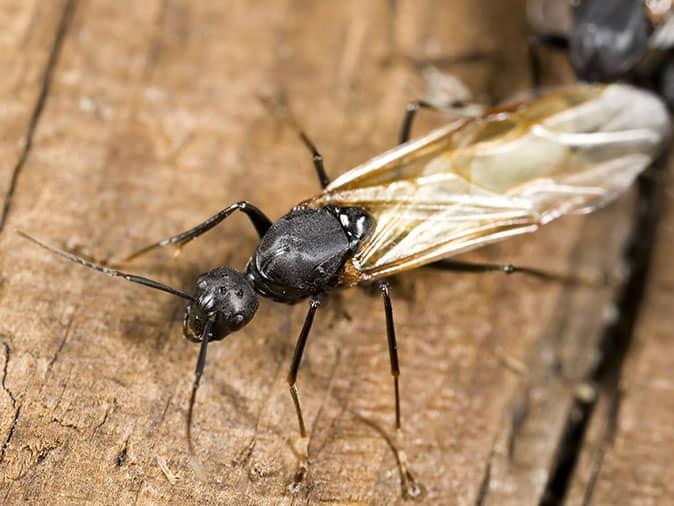 Identifying flying ants in New Jersey
Whether it's odorous house ants, carpenter ants, or another type of ant species altogether, they all have reproductive members in their colonies. Reproductives, also called alates, are the winged or flying ants that swarm at certain times of the year in order to mate and establish new ant colonies.
Because carpenter ant activity is increasing by the day in Roseland, Maplewood, and Paramus as well as throughout New Jersey, and these wood-destroying insects are the ones homeowners DO NOT want to find inside, let's assume that the flying ants we're talking about are carpenter ants.
Are you sure they're flying ants?
Here's the thing about "flying ants" in the springtime; they could just as likely be termite swarmers. Termite swarmers are the reproductive members of a termite colony that have the singular goal of leaving their existing colony, reproducing, and sustaining their species (in other words, starting a nest of their own).
To the untrained eye, winged carpenter ants and termite swarmers look very similar. If you're able to study the specimen in your home and know what you're looking for, you can tell the difference between the two. See the comparison below.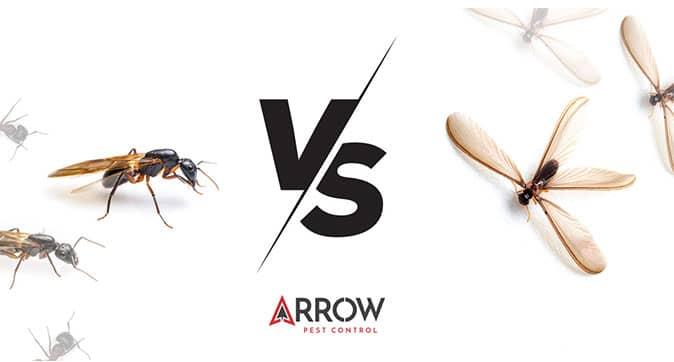 Why ants with wings are in the house right now
There are a couple of reasons why you might be seeing winged carpenter ants in the house right now; we'll start with the less concerning one. If you've only spotted a flying ant or two in your house, it's likely they entered from outdoors through an open door or window and are really own present by chance.
If you find a lot (like a swarm) of flying ants INSIDE your house, you should be worried. This is an indication that you have an active nest or satellite colony in a wall void or somewhere else in your home.
Ants with wings are problematic, not dangerous
Flying carpenter ants are not dangerous as they are intent only on one thing and that is their reproduction efforts. They will not attack, bite, or sting and they won't be around for long. Once mated, male reproductives die and fertilized females become queens of their own colonies.
So, if they're not dangerous, what's the problem? If those flying ants originated inside, you still have an active carpenter ant population in your home and there's a chance a new colony (or several) will be established on your property. Did we mention carpenter ants are a wood-destroying species? They are and though not nearly as damaging as termites in New Jersey, carpenter ants are capable of damaging the wood in which they establish galleries or nests.
Contact Arrow For NJ Carpenter Ant Control Today
If you suspect carpenter ants have infested your home, observed flying ants inside the house, or have found large black ants in your yard, contact Arrow Pest Control today.
Available in Bergen, Essex, Monmouth, Morris, and several other New Jersey counties, Arrow's carpenter ant control services include:
A thorough interior and exterior inspection
Exterior treatment to keep carpenter ants away
Interior treatment if these wood-destroying ants are already inside
Follow-up treatments to ensure the carpenter ant problem is under control
One-year renewable carpenter ant warranty
Protect your home from carpenter ants and other household pests all year-round
Home Protection Program Plus
This program includes everything from the Home Protection Program - PLUS carpenter ant control and our termite monitoring advantage. Arrow will install a passive subterranean termite monitoring system at critical or conducive areas along the exterior perimeter foundation of your home. This system will include up to 4 in-ground subterranean termite monitoring stations. These stations will be serviced and inspected as part of your routine service.
Should the monitors indicate termite activity or termites occur within the home, Arrow will provide you with a termite treatment proposal at a 50% discounted rate, and you will be upgraded to Arrow Premier at the current prevailing rate.
Is a year-round program that provides full interior and exterior service.

Service includes a one-time interior service per year and two exterior treatments.
Covers your entire property* including the attic, mailbox, playset, shed, and fence.
Termite monitoring advantage
Pests targeted with Arrow's Home Protection Program Plus includes all the pests included in the Home Protection Program PLUS carpenter ants, pharaoh ants, and acrobat ants.
*If you have a pool house that requires service, pricing would increase based upon the size of the structure.
*Termite monitoring advantage is not applicable in over-55 communities
Starting at
Program Price Calculator
Move the slider left to right based on your homes sq foot size for an estimated cost for services.**
**an initial set up fee will apply
Related carpenter ant articles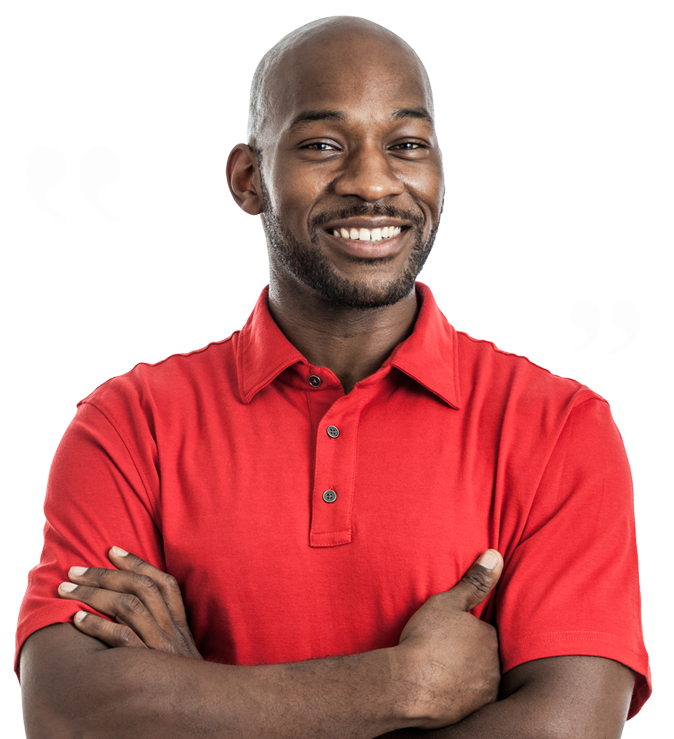 Testimonials
"We have a quarterly service plan with Arrow. They are not only focused on addressing issues they put preventative measures in place to prevent issues from happening, like looking for and sealing the places where bugs can get into the home. The team are professional, friendly, thorough and provide details about every step of their process. We have had several different technicians over the last 2 years and each follows the same process and guidelines. Definitely recommend for treatment and prevention."
Jared L.
Manalapan, NJ
Arrow Pest Control received an average rating of

5.0

out of

5

stars from

1380

reviews.
5.0
Read Google Reviews
Request Your
FREE

Estimate

Schedule Your No Obligation Inspection Today
Additional Services
Our solutions are designed for even your toughest pest problems.
Don't let pests affect your quality of life, here's how we can help:
Arrow Pest Control Blog
Read the latest articles & news